How To Make Apple Pie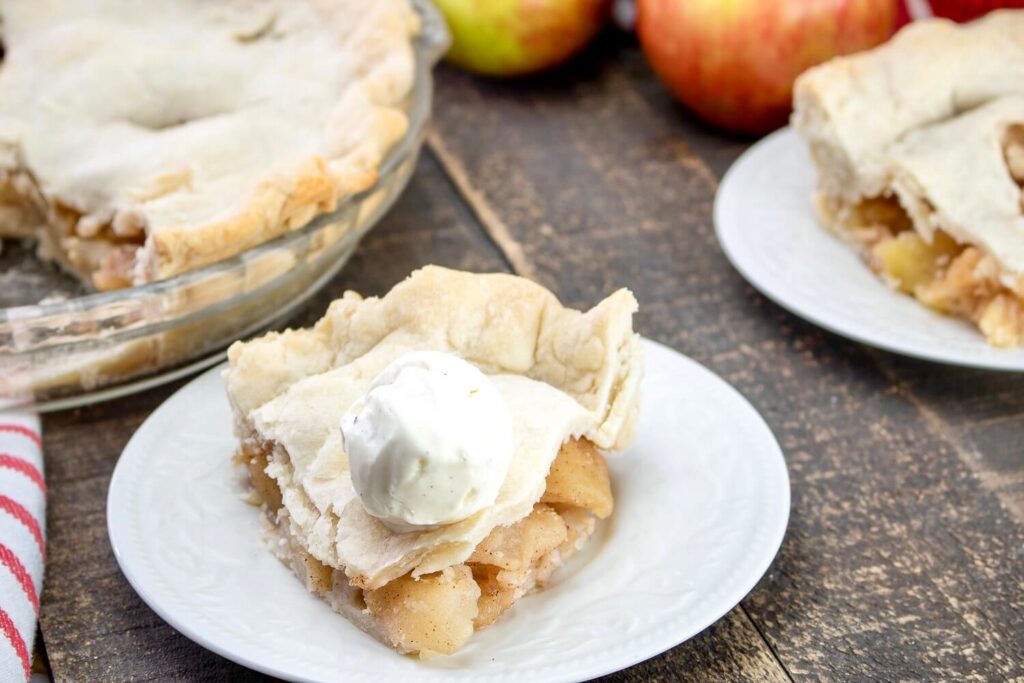 Apple pie is an American classic. This perfect apple pie recipe has a crisp and flaky crust. The filling is delicious and not the least bit watery.
What's Apple Pie Spice?
Apple pie spice generally consists of a combination of nutmeg and cinnamon. Some apple pie spices also include allspice, ginger or cardamom.
How Much Apple Pie Filling Per Pie?
This is the maximum amount of filling in cups for each pie tin:
9 inch pie = 4 cups filling
7 inch pie = 2 cups filling
5 inch pie = 3/4 cups filling
How To Know When Apple Pie Is Done
Just because your pie crust is a lovely brown, doesn't mean that your pie filling is done. To test, quickly remove your pie from the oven and insert a toothpick into an apple slice. If you have a top crust, you'll have to insert the toothpick through a vent.
If the toothpick meets a lot of resistance and is hard to push in, your fruit is undercooked and needs to bake quite a bit more.
If the toothpick meets a little resistance but it does go in, your fruit is al dente and needs to bake just a little more.
If the toothpick meets no resistance and inserts easily, your fruit is fully cooked.
If you find the pie needs more time in the oven, put it back into the oven and rotate your pie 180 degrees.
Why Is My Apple Pie Watery?
As apples cook, they release a lot of their juices. This can be a disaster for an apple pie.
One great way to prevent a watery apple pie is to simply combine your apples, sugar, and a tablespoon of lemon juice in a bowl and let it sit for an hour. During this time, the sugar will cause the apples to release their juices. Drain these juices into a saucepan and simmer until the juice is syrupy and reduced by half.
Combine the apples and sugar mixture with the rest of your filling ingredients and spoon into your bottom crust. Drizzle the reduced apple syrup over your filling, add your top crust, and bake.
Does Apple Pie Need To Be Refrigerated? How Long Will Apple Pie Last In Fridge?
According to the US Department of Agriculture, fruit pies, such as cherry and apple, can be stored at room temperature 1-2 days or seven days in the refrigerator.
Can Apple Pie Be Frozen After Baking? Can Apple Pie Filling Be Frozen?
You can freeze an apple pie after baking, but it's best to freeze apple pie before baking. Both baked and unbaked apple pie will last for up to 6 months in the freezer. If you freeze the apple pie filling by itself, it will remain fresh in the freezer for up to 12 months.
When Is National Apple Pie Day?
National Apple Pie Day is observed annually on May 13th.
This Recipe Goes Great With:
Apple Pie
An easy and delicious recipe for Apple pie.
Ingredients
Pie Crust Ingredients
3

cups

all-purpose flour

1

tsp

salt

1 ¼

cup

vegetable shortening

12

Tbsp

ice-cold water
Pie Filling Ingredients
6

cups

apples

peeled and sliced

⅔

cup

granulated sugar

1

Tbsp

lemon juice

2

Tbsp

all-purpose flour

1

tsp

ground cinnamon

⅛

tsp

ground nutmeg

2

Tbsp

unsalted butter

cut into 4-5 pieces

1

Tbsp

milk

2

tsp

granulated sugar

optional
Instructions
Place top oven rack in center position and pre-heat oven to 450°F.

Combine apples, ⅔ cup granulated sugar, and lemon juice in a bowl. Let sit for 1 hour while preparing crust.

To prepare pie crust, add flour, salt, and vegetable shortening to a large bowl and mix with a pastry blender.

Gradually add ice-cold water to the dough until it binds together and can form a ball. 

Place dough in the refrigerator and chill for 30 minutes.

Drain juice from apple mixture into a saucepan. Simmer until reduced by half.

Add cinnamon, nutmeg, and 2 Tbsp. all-purpose flour to apple mixture and toss gently to combine. 

Remove the dough from the refrigerator and divide into 2 even sections.

Roll out each piece of dough into a 10-11 inch diameter for a 9-inch pie. 

Line a 9-inch pie pan with one of the crusts. 

Transfer the apple filling to the pie crust.

Drizzle reduced apple juice over filling.

Place top crust over the pie and crimp the edges together.

Cut 4-5 vents into the top crust with a sharp knife and place a small piece of butter in each.

Brush milk evenly over crust and sprinkle with sugar.

Cover edges with a pie crust shield or foil to prevent over browning.

Bake for 10 minutes at 450°F. 

Reduce temperature to 350°F and continue baking for another 35-40 minutes. 

Remove from oven and cool for at least 15 minutes before slicing and serving.
Nutrition
Calories:
605
kcal
Carbohydrates:
68
g
Protein:
5
g
Fat:
36
g
Saturated Fat:
10
g
Cholesterol:
8
mg
Sodium:
296
mg
Potassium:
150
mg
Fiber:
4
g
Sugar:
28
g
Vitamin A:
138
IU
Vitamin C:
5
mg
Calcium:
17
mg
Iron:
2
mg
⭑ Did you make this recipe? Please don't forget to give it a star rating!